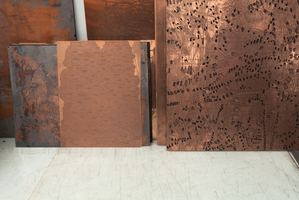 About
The collaborative studio of Jennifer Melby specializes in intaglio printmaking and offers artists and publishers facilities for a full range of platemaking, proofing and editioning services, as well as steelfacing of copper plates. She opened her studio in the early 1980's on the Bowery and it is now in downtown Brooklyn, near the Brooklyn Bridge.
Jennifer Melby has worked with the following notable publishers: Baron/Boisante, Peter Blum Editions, Brooke Alexander Editions, Cleveland Museum Print Club, Diane Villani Editions, Fawbush Editions, Galerie Bernd Kluser, Multiples, Parasol Press, and Michael Steinberg Fine Art.
Artists commissioned by these publishers include Kamrooz Aram, Donald Baechler, Michael Byron, Eric Fischl, Janet Fish, Jane Freilicher, Joanne Greenbaum, Isca Greenfield-Sanders, Red Grooms, Michael Hurson, Julia Jacquette, Darina Karpov, Jane Kent, Andrew Lord, Brice Marden, Dan McCarthy, Suzanne McClelland, Sean Mellyn, Paul Henry Ramirez, Sean Scully, Andy Spence, Nicola Tyson, and Michele Zalopany.
In addition to etching projects for these publishers, Jennifer Melby has published editions by Joanne Greenbaum, Craig Taylor, Natalie Frank, Red Grooms, Andrew Spence, Judith Linhares, Paul Mogensen, Jackie Saccoccio, Tom Burckhardt, Robert Moskowitz and Nicola Tyson.
Prints made in her studio have been acquired by many contemporary print collections including the Museum of Modern Art, New York Public Library, Whitney Museum, Houston Museum of Fine Art, Cleveland Museum of Art, Smith College, Tate Gallery , Pinakothek der Moderne, Munich, and the Yale University Art Gallery.
Jennifer Melby has taught at Pratt Institute, Yale University, and the Lower East Side Printshop, and has led workshops at Brandeis, Cooper Union, Lehman College, RISD and Yale University.
Contact
jfmelby@gmail.com
Mailing Address
110 Wyckoff Street
Brooklyn, NY 11201